We want to hear from you
Please select the purpose of your inquiry or use the contact form below for general inquiries.
Customer Service
Are you a consumer with questions? Do have an issue with a product you purchased from us? Are you an existing wholesale customer with concerns? If you don't find answer in the F.A.Q.s section, please use this form to contact us with your product inquiry, concern, comment, or suggestion.
Wholesale Inquiries
If you are interested in placing an order with us and are a new wholesale or retail customer, please use this form to open an account with us first. If you already have an account with us and want to submit an order, use the contact form below (an online ordering form will be available soon).
Become a Supplier
Do you have a product we might be interested in? Are you a farmer with raw product you'd like to sell? Are you a broker with a good lead on an ingredient we may need? Are you an existing supplier with updated pricing? Then please use this form to get in touch with us.
Marketing Inquiries
Are you a blogger wishing to collaborate? Do you have a festival coming up that we'd be perfect for? Do you need product samples for a photo shoot? If you have a marketing tool that might help us or a food related media query, please contact us with any of your marketing/media inquiries.
General Inquiries
Thank you for your interest in Shah Trading Company. For the quickest response, please use one of the forms above or view the F.A.Q. page. If none of the forms above are applicable, please feel free to contact us via phone, email or using the general inquiries form. For our locations, please scroll down.
Phone number
416-292-6927 / 514-336-2462
M-F 8am – 6pm
Email
info@shahtrading.com
Locations
Toronto
3451 McNicoll Ave
Scarborough, ON
M1V 2V3, Canada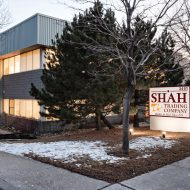 Montreal
3401 Douglas B. Floreani
Ville St. Laurent, QC
H4S 1Y6, Canada
Pulse and Canning Plant
61 Middlefield Rd
Scarborough, ON
M1V 2V3 Canada
Rice Plant
2450 Lawrence Ave #16
Scarborough, ON
M1P 2R7, Canada